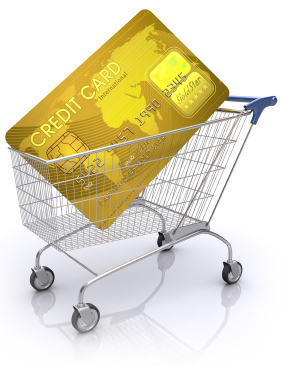 If you're a hardworking freelancer or small business owner, you need to make it as easy as possible for your customers to purchase your goods and services, whether they're standing before you or shopping online. Being able to accept credit card payments means you won't have to wait for a check in the mail or make your customers wait until normal business hours to make purchases. If you want to increase your revenue, here are some things to take into consideration when deciding the best method to accept credit card payments.
Shopping Cart
Setting up a shopping cart is one of the easiest ways you can accept credit and debit card payments on your company website. By placing the shopping cart platform on your site, similar to the ones you find on other large retail websites, your customers can place their orders online from around the world, even when you've closed for the day and are spending quality time with friends and family. When your customers are ready to pay for your products, your shopping cart will lead them to provide their personal information.
From there, a third-party payment processor takes the payment and forwards the money directly to your business checking account. It should be known that by signing up with a payment processor, you'll end up paying either a flat monthly or yearly fee, or a processing fee for each payment submitted. However, after you have created your account, you will be provided the necessary code to copy and paste into your website code, providing you the ability to accept card payments.
Mobile Payment Processing
If you haven't developed your website yet, or are running your business from home and working solely with local customers, one of best methods for you to accept payments might be through mobile credit card processing. When you connect your card reader to your phone, you can literally begin scanning credit and debit cards on the spot.
If your customers are wary to pay for your products and services on your smartphone, you can reassure them that the process is safe, as your reader also allows your customers to sign for their purchases directly on your phone. If your customer's card is having difficulty scanning, no need to worry. Most mobile payment processors allow you to enter the card numbers into your smartphone through an application, so even if your customer's card has seen better days, they can still make a purchase from your company.
Choosing the Best Program for Your Business
Before you decide to choose a payment processor, you need to take the time to thoroughly read all of the terms you are agreeing to by creating an account. There are numerous online payment processors as well as a handful of mobile processors, so you do have options. Unfortunately, there is no standard, though most in the industry will offer similar plans regarding processing fees and any additional monthly or yearly fees.
There can be other fees associated with these programs as well, and you need to make sure you're aware of them. Some merchant service providers will be better suited to assist you than others, simply based on the number of transactions you process each month. Another factor to take into consideration is how often you'll anticipate running transactions in the future –you are taking this step to grow your business, after all. However, once you're able to decide upon the right program or programs for you and your company, you'll be on the fast track to increased sales and revenue, thanks to the convenience you're providing your customers.
Comments
comments