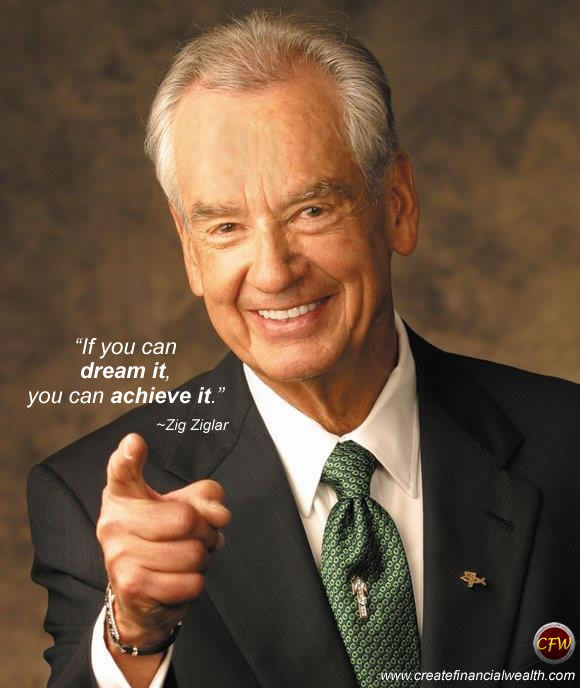 I'd like to write a quick tribute to personal development Guru, Zig Ziglar. He was born on November 6, 1926, and left this world on November 28, 2012. He was 86 years old.
Zig Ziglar
I remember the first time I listened to Zig as if it were yesterday. I had recently joined a network marketing company within the personal development industry, and we had purchased some audio cd's to listen to as we were on the road. Amy had just purchased her dream vehicle, a Hummer (H2), and we were driving through the Salt River Canyon, between Showlow and Globe, Arizona.
As I listened to Zig, he was captivating, and had  a great speaking ability. His audio was mixed in with several other professional speakers and his message seemed to stick out above the rest.
Hilary Hinton "Zig" Ziglar, was a great author, salesman, a veteran and public speaker, to name a few. His message has inspired the hearts of many.
When I leave this world, I'd like it to be said of me, "He made the world a better place." This much is true about Zig Ziglar.
Thanks Zig, and thoughts and prayers from the Allred family extend out to your loved ones.
Here are a few of my favorite Zig Ziglar quotes:
"You will get all you want in life, if you help enough other people get what they want."

"People often say motivation doesn't last. Neither does bathing—that's why we recommend it daily."

"Expect the best. Prepare for the worst. Capitalize on what comes."

"Your attitude, not your aptitude, will determine your altitude."

"If you can dream it, you can achieve it."

"You can't truly be considered successful in your business life if your home life is in shambles."

"You were born to win, but to be a winner, you must plan to win, prepare to win, and expect to win."
Comments
comments