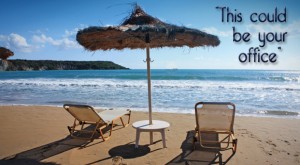 I think there may be a little confusion as to what the term, "Time Freedom," really is. So many people are seeking it, yet very few really find it. Time Freedom is a concept. It's a lifestyle and so much more. It's what allows Fathers to truly be a powerful influence in the lives of their children. It makes it possible for mothers to really and actually be the "Stay at home Mom!" It's the freedom that allows you to persue your dreams, hobbies and ambitions without restraint. It is probably the most sought after thing in the world.
A lot of people associate Time Freedom with Financial Freedom. Financial Freedom can be obtained while taking all of your free time to obtain it. So many sacrifice their time freedom to get the financial freedom. On the flipside of the coin, a bum has all the time freedom in the world yet, no money! So you can have one without the other.
The big difference is, you can always get more money, but can never really get more time. The clock of life is ticking and when the batteries run out, our time to make a difference in this world is over. The ideal lifestyle is to have them both. Have the money and the time to enjoy it!
Here are a few things that are NOT Time Freedom, just to be clear:
2 weeks of paid vacation from your employer.
Weekends off from your business or employer.
Only having to work 40 hours a week.
2 or 3 hours in the evenings to devote to family time and hobbies.
Summers off, as most teachers get.
The ability to take a day off here or there or swap work days for a family event.
Having Sick Days!
Now that there is zero confusion, time freedom is a very simple thing to define, and it means doing whatever you want, whenever you want, however you want, or just not doing it at all, if you don't want. That's it! True time freedom is being in complete control of your day. No boss to take orders from, no schedule to rule your day, no job to take you away from your true passions, no business that robs you of your personal life. It's having complete and absolute control. If you wake up in the morning and feel like taking a drive out of town with your family, you do it. If you feel like not working at all that day, it's your choice.
Now the trick is to be able to do all that you want to do, while still having the income flowing in. Wouldn't it be great if there were a simple way to get them both, Time Freedom and Financial Freedom? If I knew the way, or at least one of the many ways, would you be interested to know? And once you found out how I do it, and thousands of others have done it, will you believe that it can happen for you?
That's the key! Will you believe it can and will happen for you?
Comments
comments