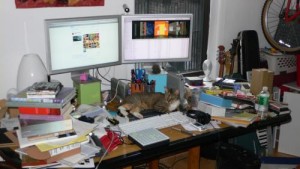 Running a home-based business can be quite enjoyable as well as profitable. It's these two reasons why more people are investing time and energy to form their own companies. However, not everyone will experience the same degree of success. There may be several key factors that can contribute to whether you can retire happily in the future or spend time on the unemployment line. What can you add to help boost the likelihood of your success?
Clean Home Office
A well-kept home office may be vital to your success. Studies show that a cluttered work environment reduces the productivity of office employees. In essence, this causes a mental distraction that can be detrimental to handling a workload. While your workspace doesn't need to pass a white-glove inspection, keeping the area tidy can help you keep in the right frame of mind.
Social Media Interaction
Statistics prove that more than 80 percent of consumers research a business online before making purchases. This is true whether you're home-based business is purely online or local. An active social media account helps increase the reputation of the brand. As more people are turning to the Internet to research businesses in their communities, it's vital that you have a strong social media presence. Otherwise, you could inadvertently send traffic to your competitors.
Prompt Communication
Keeping in direct communication with clients and leads could be time consuming. Implementations like a call center plus services may be a boon to your success by making your company reachable day or night. Things like answering calls during the weekend, online chat or answering emails could free your time to focus on other aspects of the business. As a result, your home-based company delivers greater customer service. This can play a role in boosting the reputation of your brand.
Strong Marketing Strategy
Marketing needs to go beyond simply using social media. According to researchers, one in every seven businesses will fail because of a lack of marketing strategies. These strategies can range from pay-per-click campaigns to SEO for your website. It's all about creating awareness of your products or services. You can't expect to make a lot of money if no one knows your business is available.
Strong Budget Practices
Depending on the type of business you operate from home, it may be wise to create a strong budget plan. Too many businesses fail because of a lack of money management. The home-based business needs to be treated like a separate entity with it's own financial needs. The moment it can't sustain itself is when the business becomes an expensive hobby. Planning out how to use the money can prevent financial issues from developing. A budget will also help you determine areas of the business which need improvement.
These are only a handful of things you can do to improve the success of your home-based business. The most influential factor will be the amount of determination and motivation you have for sustaining the company. Don't assume that being self-employed is all about relaxation. The more effort you put into anything in life, the greater is the potential for success.
Comments
comments