What Exactly Does Dave Do?
On this page, you'll be able to view a series of videos that demonstrates EXACTLY what I do to earn an income while working from home, completely part time. Most people, especially those who might know me, probably think I sit around all day. As much as I'd like to, that's far from the truth.
So, if you are someone who is interested in earning some extra income, getting away from the old J.O.B or building true wealth, I think you'll find some of these videos extremely enlightening!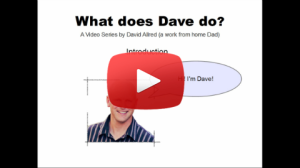 Introduction
In the introduction video, you'll learn why I decided to create this video series. There are those of you who don't understand what I do, and would like to learn more.
If that's you, and you're looking to make some extra income, for an escape from the ole J.O.B or are looking to replace your current income, bookmark this page and check back daily for the next video in the series.
I guarantee you'll learn something that will help you reach your ultimate goal.
Webmaster

As a webmaster, I am able to work from home and set my own hours. At one point in time, this was my only source of income and provides that "time flexibility" most people wish they had in their lives. I enjoy it, because it keeps me up to date on all the new design and marketing information on the web, and, it's fulfilling to know that I am helping other business owners succeed.

If you're in need of webmaster services such as website design or editing, don't hesitate to contact us at Xposeyourbusiness.com

Links