What's a Bandit Sign?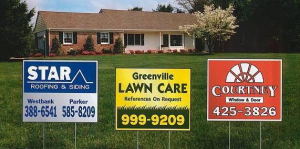 I wonder why they even call it a Bandit sign in the first place, but it's a pre-printed or handwritten sign about 1 ft by 2ft that one can place on the side of the road. They can be used for just about anything, from yard sale signs and home based business ads to real estate sales. Bandit signs are an inexpensive but very effective way to promote your home based business as well as your traditional business.
How are they used?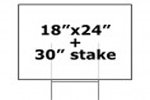 Most bandit signs come in a kit. You can buy them at most major stores such as Walmart or Home Depot or order them online. The sign comes corrugated, so that you can insert the two metal posts that come with the kit. You simply stick the posts into the ground near a high traffic area or in front of your business.
Where are they Most Effective?

We have seen the best results when placing these signs near intersections, shopping center exits, near places of work and even strapped to stop signs. We once placed a series of signs on a road that was frequently backed up with traffic due to everyone commuting to work in the mornings. The bandit signs were approximately fifty yards apart off the right hand side of the road. I believe we used just three signs, each leading up to the next. The final sign was nothing more than a phone number for them to call.
Wherever you place them, put yourself in the drivers seat of a car. Make sure they are far enough off the road to see from there, angled just a bit towards the road and in a place that someone will be able to read the information twice before passing by it completely. Place them near stop signs, stop lights or even on a popular jogging path. Get creative!
What Text Works Best on the Signs?
The most important part of the sign is the text. It must be legible and contain large enough print to read from ten to thirty yards away. Sometimes too much information will make the sign less effective. You have to consider that most people who see the bandit sign are traveling at 25-45 mph. Signs go by real quick at that speed.
On the series of signs we placed on a backed up road, we wrote: 1st sign – Tired of commuting to the J.O.B. Everyday… 2nd sign – You'd probably rather be Golfing, or with your kids… 3rd sign – Potential 10k Working from Home 888-555-1234.
If I read that, I'd either cuss at it or call it. And we received a ton of calls from those signs. If you're generating leads, it's best to get an 800 number to use. The best way is to sign up with an 800 number voice messaging service. The person that calls the number will hear a pre-recorded message from you and can leave a message with their contact details.
Sample Ads
Earn a Potential 5k per week. Don't believe it, Don't Call! 888-555-1234
I Make 20k/mo with this stupid Sign. Learn How. 888-555-1234
You Hate Your Job Anyways. Triple Your Income Working from Home. 888-555-1234
Helpful Tips
It's always best to put signs out as a team. Take someone that can either drive for you or stick the signs up for you.
The ground it almost always rock solid near city intersections. At least in Arizona it is. Find a small plot of grass to place the sign on. It always goes in easier.
If you've decided to place a bandit sign on a stop sign, use zip ties. Puncture the sign on top and bottom, prepare by putting zip ties in all the signs before heading out. It's quicker, and when traffic is heavy, you've got to be fast.
To avoid traffic, go out late at night. That way, the first commuters see them and you can save some of your pride.
In my experience, handwritten signs have always worked the best with my home based business.
Comments
comments