Don't despair if your advertising budget is less than you'd hoped—just get creative! There are plenty of low-cost or no-cost marketing options for your home business, but you have to work hard and seek them out.
Customize and Use Promo Items: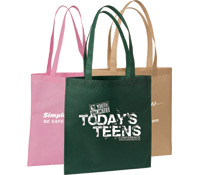 Personalized products are far cheaper than traditional advertising outlets and they boost the effectiveness of your networking. Wouldn't you be more likely to remember a company if you received colorful sports bottles or reusable tote bags in place of just a business card? Have the name of your home business and your contact information printed on useful or fun items of your choice and start handing them out when you meet people who are interested in your products or services. If you have a logo to print on your merchandise, then that's even better!
Start a Blog for Your Business:
Blogging can be all fun and games, but it can also be used as a marketing tool. Set up a blog on your website or create one through a service like WordPress or Blogger and start writing about hot topics in your industry. Be sure to include pictures and relevant links in your posts, too. Your expertise could be valuable to customers, not to mention you'll build credibility and encourage customer interaction by sharing your knowledge with the world.
Social Media and Share Sites:
Facebook, Twitter, LinkedIn, and YouTube allow you to interact with customers in ways you never imagined. Many companies use their Twitter or Facebook pages to field client questions, conduct polls, or run contests, but at the very least either of them will give you another listing in search engines and help people find you. LinkedIn is an excellent service for networking and building relationships with your customers and colleagues, and YouTube gives you the option of sharing your instructional videos or commercials. The best part is that all four of these social media sites are free!
Answer Online Questions:
Q&A sites like Answers.com, Yahoo! Answers, and Quora provide significant opportunities to establish credibility and expertise in your field. It's free to sign up and you can subscribe to receive updates when new questions are asked about your industry. Making an appearance on Q&A sites is another way to get your business name out there, and you'll have fun helping others. No matter which method you choose, start a schedule for yourself to ensure that you're spending adequate amounts of time and money on marketing efforts. It's all too easy to drain your budget without even realizing it and other aspects of your business will suffer if you spend too much time on advertising. The sooner you work out a routine for yourself, the sooner you can watch your home-based business thrive!
Comments
comments